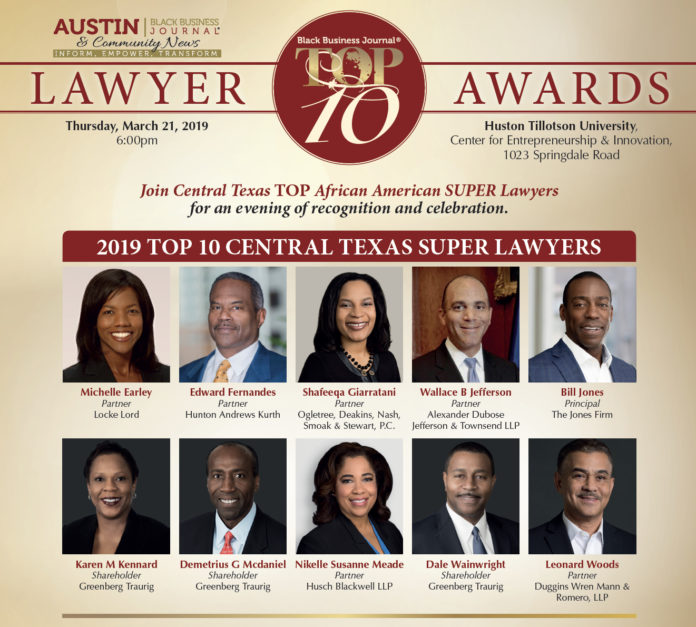 Each year, Black Business Journal honors ten outstanding Black Professionals in the legal field who have achieved professional excellence and have actively paved the way to success for others.
These individuals demonstrate brilliance in a variety of professional settings and personify excellence on a regional, national and global level.
Honorees will be featured in the March issue of Austin Black Business Journal® & Community News Magazine.
CONGRATULATIONS to the 2019 Honorees
Michelle Earley, Locke Lord
Edward Fernandes, Hunton Andrews Kurth
Shafeeqa Giarratani, Ogletree, Deakins, Nash, Smoak & Stewart, P.C.
Wallace B Jefferson, Alexander Dubose Jefferson & Townsend LLP
Bill Jones, The Jones Firm
Karen M Kennard, Greenberg Traurig
Demetrius G Mcdaniel, Greenberg Traurig
Nikelle S Meade, Husch Blackwell LLP
Dale Wainwright, Greenberg Traurig
Leonard Woods, Duggins Wren Mann & Romero, LLP
Join us for a reception in honor of these deserving Texas attorneys Thursday, March 21, 2019 at 6:00pm. Huston Tillotson, Center for Entrepreneurship & Innovation, 1023 Springdale Rd
Purchase tickets:
https://www.eventbrite.com/e/austin-black-business-journal-top-10-lawyer-awards-reception-tickets-55614871578
Black Business Journal is a product of Made Media Group, a 501c3 nonprofit organization designed to celebrate African American achievement, promote black businesses, and encourage minority kids to seek careers in media and technology.